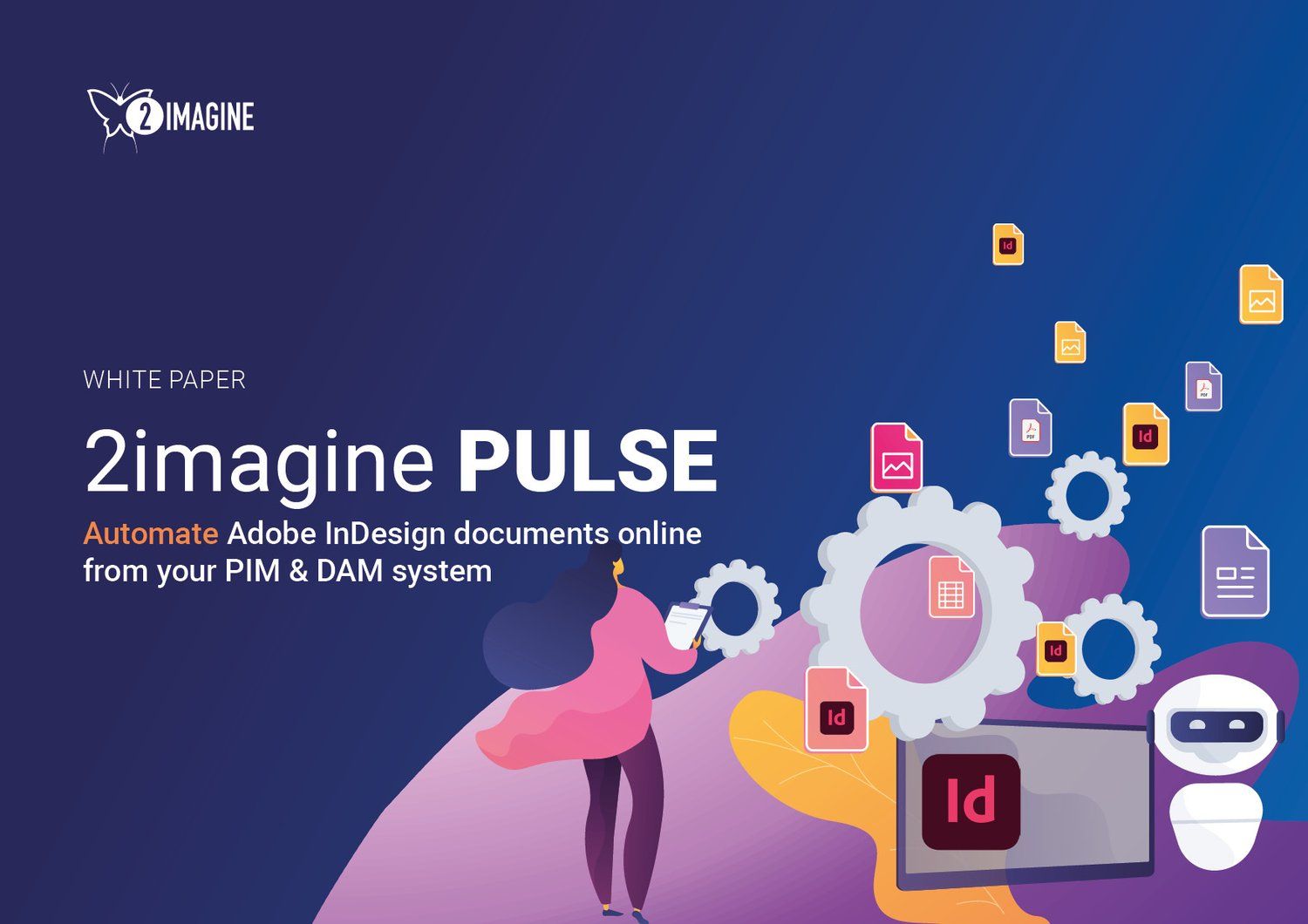 Discover Automated Marketing Collateral Production
In the ever-evolving landscape of retail marketing, staying ahead of the curve is essential to thrive in a competitive marketplace. Introducing 2imagine Pulse, a cutting-edge cloud service poised to transform the way retailers automate the creation of marketing datasheets, point-of-sale (POS) materials, and other essential print marketing assets, all while harnessing the potential of their Product Information Management (PIM) solutions.
Empowering Retail Marketing Automation
2imagine Pulse redefines the way retailers approach content creation by offering a 100% automated solution driven by specific triggers. Imagine the ease of generating dynamic documents that automatically update based on product status changes in your PIM system. This streamlined approach not only saves time but also ensures that your marketing materials are always up-to-date and aligned with your product data.
Seamless Integration and Efficient Creation
Getting started with 2imagine Pulse is a breeze. Begin by preparing and uploading your Adobe InDesign templates. These templates are then seamlessly integrated with your PIM, Content Management System (CMS), XML, or Excel data. The result? Exquisite PDFs, high-quality JPGs, and sophisticated Adobe InDesign documents that effortlessly encapsulate your brand's essence.
A Tailored Automation Process
Tailoring your automation process to fit your exact needs is at your fingertips with the Pulse configuration wizard. Define various steps within your automation workflow, such as extracting data from your PIM, transferring PDF outputs to Dropbox, and sending confirmation emails. This intuitive customization ensures that the entire process aligns perfectly with your marketing strategies.
Triggering the Transformation
The magic begins when a trigger initiates the document creation process. These triggers are as diverse as your needs – from changes in product status within your PIM system to the drop of an Excel file into a designated hot folder. You can even set up batch processes to run daily, automating tasks that once demanded tedious manual intervention.
Embracing Efficiency, Unleashing Creativity
Why is 2imagine Pulse an essential addition to your retail marketing arsenal? The benefits are profound:
Save Precious Time: Bid farewell to the days of laborious manual content export. With Pulse, your marketing materials are created and updated automatically.
Seamless Integration: No more custom API development to integrate with other systems. Pulse effortlessly harmonizes with your existing setup.
Design Simplicity: Forget about intricate HTML development for PDF templates. Create and edit your Adobe InDesign documents online, without the need for the Adobe Creative Cloud app.
Effortless Monitoring: Keep a watchful eye on your batch processing through the intuitive Pulse dashboard, ensuring everything runs smoothly.
In a rapidly evolving digital landscape, 2imagine Pulse emerges as a beacon of innovation, equipping retailers with the tools to streamline and elevate their marketing efforts. The era of laborious manual content creation is over – embrace the future of automated marketing collateral production with 2imagine Pulse.